"I Know the Truth: Muhammad Ali, Brainwashing, and the Racial Politics of Religious Authenticity," University of California, Berkeley, Thursday, March 3, 5 pm PST (in person/Zoom)
In 1964, heavyweight boxing champion Cassius Clay announced to the world that he was a member of the Nation of Islam. Renamed Muhammad Ali by the Nation's leader, the boxer faced a slew of criticism about his chosen faith. The idea that he had been brainwashed was among the most pernicious explanations for his conversion and his subsequent defiance of the draft for the American war in Vietnam. These allegations of mind control—and Ali's defiant response to them—form a pivotal moment in American conversations about faith, race, and political authenticity.
This event is part of the public lecture series, "Race, Religion, Democracy, and the American Dream." It will be held in person at 3335 Dwinelle Hall *and* via Zoom. Please register here.
A Conversation with Rebecca L. Davis, Martin Marty Center for the Public Understanding of Religion, University of Chicago Divinity School, Thursday, February 10, 5 pm CST
Update: Click here to view the Livestream!
This event will take place live and via Livestream. Please visit the Marty Center website for more information.
This program is sponsored by The Martin Marty Center for the Public Understanding of Religion, the Undergraduate Program in Religious Studies, and The Center for the Study of Gender and Sexuality.
"The Woman: Clare Boothe Luce and the Politics of Religious Conversion," the Cushwa Center Lecture at the University of Notre Dame, Tuesday, February 8, 4:30 pm EST
This is an in-person event - Morris Inn Dining Rooms on the campus of the University of Notre Dame.
For more information, please visit the Cushwa Center events page.
Public Confessions: A Book Talk at the University of California, Riverside. Thursday, January 20, 6 pm PST / 9 pm EST (Virtual)
A talk about Sammy Davis Jr., celebrity, conversion to Judaism, Marilyn Monroe, Elizabeth Taylor... the good stuff.
Please click here to register for the event and receive the Zoom links you'll need for the event.
Swarthmore Seniors Discussion Group, Wednesday, January 12, 12:30 pm (Virtual)
Book Launch Event for PUBLIC CONFESSIONS: THE RELIGIOUS CONVERSIONS THAT CHANGED AMERICAN POLITICS!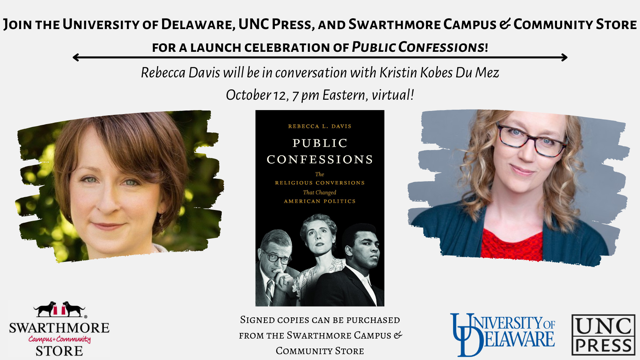 Join us for a virtual book launch celebration on TUESDAY, OCTOBER 12, 7 PM Eastern. (Register here.) I'll be in conversation with Kristin Kobes DuMez, author of the New York Times bestseller, JESUS AND JOHN WAYNE: How White Evangelicals Corrupted a Faith and Fractured a Nation. The event is free and open to the public; registration is required. (Once you register, you'll receive an email about how to join the Zoom.) Thank you for considering this! I would be so honored if you joined us.
Book Launch Party for poet Dilruba Ahmed!
A virtual reading & celebration of BRING NOW THE ANGELS by award-winning poet Dilruba Ahmed at the Philly book launch party, on Saturday, October 3, 2020, 6:30 pm. Rebecca will read serious history or lewd satire.
One Book One Swarthmore 2020 Keynote
Please join me as I deliver the keynote address for One Book One Swarthmore on Tuesday, May 26, 7 pm, via Zoom. Register in advance here: https://delcolibraries.libcal.com/event/6677180.
Swarthmore Events
On October 17, 2018, the Swarthmore Discussion Group will host me for a talk entitled, "I'm Free to Be Who I Want: Finding Faith and Making the Self in America."
https://swatdiscussiongroup.wordpress.com/
Area Talks
"Free to Be: The Religious Roots of Today's Debates over Gender, Race, and Sexual Truth"
Princeton University
Wednesday, February 20, 2019, 4:30 pm
Co-sponsored by the Center for the Study of Religion and the Program in Gender and Sexuality Studies